Nov 18, 2011 18:43:17 GMT -5
Post by ¿℟ᵿҝɸ on Nov 18, 2011 18:43:17 GMT -5
[atrb=width,500,true][atrb=border,0,true][bg=000000]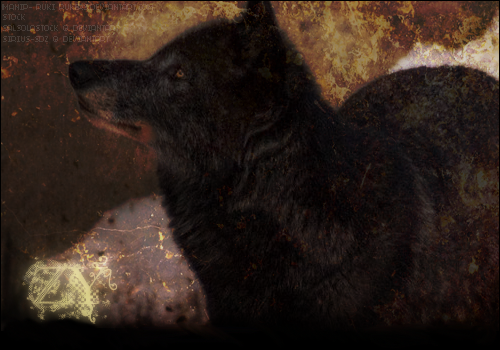 It was just after midday as the local Irrsin trouble maker moped around his designated area, thoroughly bored with his life at this point. He paced back and forth in his little dirt rut, half asleep, and wondering if it really was possible to die of boredom. The sun was cycling through his second day of social isolation and so far he'd been a good boy and not talked to anyone. However, as his current action proved, doing the right thing wasn't nearly as fun and rewarding as wolves said it would be. Those straight-edged folk must never have walked a crooked line like him. Poor guys. Anyone who thought wearing a hole in the dirt was entertaining must live a pretty dull life.

After tripping over the same small rock for the upteenth time, Zy decided to take his wandering elsewhere. Making one last pass through his well worn oblong ditch he began stomping through the meadow greenery and into the tall grass. With his head glued to watching his feet, the male obviously wasn't planning on going anywhere specific. He just plodded along, parting the drying sprigs that coated the ground. It was like watching a two year old walk through the zoo. There might be all sorts of interesting things around, but for some odd reason, shoes moving forward was more exciting than a polar bear.

Zy's slow and meaningless progress to nowhere was cut short as the idiotic male ran head first into a solid object. He kind of stood there for a second or two, trying to find the motivation to have any sort of reaction. He rubbed the top of his scalp against the textured surface a few times before glancing upwards at the striated branches.

"Oh, hello there. . .", he mumbled to the thinning wood-being before him. "How's life been treatin' ya?"

His new friend didn't seem to be in the mood for conversation.

"I know the feeling man."

Zy allowed himself to fall on his side into the fallen leaves below with a crunchy thud.

"Life's hard for guys like us. Stuck in one place all the time." He rolled over onto his back to look up at his silent companion. "But then, we can't really leave can we." He gave the tree a sad smile."I mean you, you gotta keep those underground branches. . . underground, so you can stay alive. Not like you chose to grow here either, all by yourself in the middle of this field, with everyone else way off there. . ." His voice trailed off before abruptly starting again. "Turpa can be pretty heartless sometimes, can't she."

Zy laughed softly at the mentioning of that goddess. His own encounters with her had been some of the few slivers of light during his darker period. In a way, he did owe his life to that fiery tempest. He knew he was just another of her charity cases, but that didn't stop her brazen words and tough-love tactics from getting him out of his pit on more than one occasion. She was one of the Divine he could tolerate negligence from, but the rest. . . didn't have his green light. He turned his head slightly toward the dens before continuing to gaze up into the overhanging canopy of one.

"But, you know what I'm really jealous of?" The ashen male began wiggling around on his back in the leaf-litter. "You get all these leaves. She loves them y'know." Zy let out a puff of air to blow away a leaf that landed on his muzzle. He didn't particularly care if anyone saw him there, rolling around like a puppy, or if anyone heard him talking to his foliaged pal. It wasn't anything him and Tree couldn't fix. Those things really did make the best friends.

OOC;; IDEK. 8D Open. Trying to get back on posting. Got bored. Lol.

[/blockquote]
[/color][/td]
[/tr]
[/table]